STATPHYS28 Banquet on "Yakatabune" Boat
We are planning to host a conference banquet in conjunction with the 28th International Conference on Statistical Physics (Statphys28) on the evening of August 10th, 2023.
The banquet will provide attendees the opportunity to savor the night view of Tokyo while indulging in a traditional Japanese meal.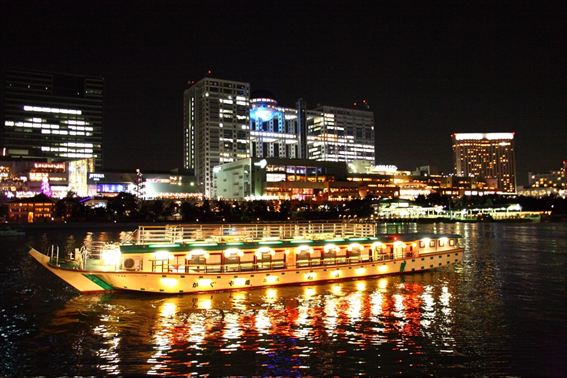 Enjoy Japanese food on the traditional "Yakatabune" boat, with a gorgeous night view of Tokyo!
Banquet Date

August 10th (Thu)

Meeting Date/Time

6:00pm, August 10th (Thu)

Meeting Point

Near STATPHYS venue in Hongo Campus, University of Tokyo (for details, see below)

We will transport you to the boat terminal by bus ---
all the participants (including your companions) should come to the meeting point on time; there will be no late admission because of the nature of the dinner cruise.

Fee

15,000 JPY/person (adult)
4,800 JPY/person (child menu, suggested for up to 12 years old)
The same rate applies to the STATPHYS28 participants and their companions

Food


(photo of the standard course; actual meal provided may vary)

The default menu (standard course) is Japanese traditional course meal typically including seafood and possibly a small amount of meat.
You may choose a vegetarian option.

Vegetarian menu will be served on a separate boat. Please choose the same option if you want to board on the same boat with your companions or friends. There is a minimum number of participants for the vegetarian meal to be provided; we will contact you in the case it is not met.

Registration

To join, please register by August 4th (Friday), and complete the payment by August 7th (Monday) at
https://sec.tobutoptours.co.jp/web/evt/statphys28/

Please create an account first, then register the participants including yourself and your companions.
Payment should be completed on the system before the deadline.
Please download and print the ticket and bring it with you on the day of the banquet.

We are preparing multiple boats. However, to ensure your seat, please register as soon as possible (well before the deadline) as the capacity is limited.
The registration for STATPHYS28 Banquet is temporarily suspended because the capacity has been reached.

Meeting Point

6:00pm, August 10th (Thursday) all the participants must gather on time South side of Yasuda Auditorium (see the map below)


Closing

The dinner tour is expected to finish before 9:30pm at the boat pier, which is 10 minutes on foot from JR Shinagawa Station in central Tokyo.
Participants must return to their own accommodations by public transportations or taxi. (Return transportations from the pier is not provided).